Trying to catch up my blog…
I like to cook, so Santa brought me an awesome kitchen for Santa-brings-presents-day. Unfortunately I think there was a labor dispute with his elves because it came all in parts and daddy had to spend all afternoon putting it together. It had a LOT of pieces:
In the end it was awesome! I baked lots of imaginary cupcakes and then I helped mommy make some real ones. I got to decorate them

We went up to visit my friend Juniper again. She's older now and much more fun now that she doesn't just sleep all the time. I'm happy to help with a baby now that I'm a big girl

When Juniper came to visit me, we had Eirene come over and we played D&D with our figures until we got all tired:

I'll tell ya, that Juniper really knows how to party!

Let's see…what else?
I learned about painting:

I've become and excellent climber: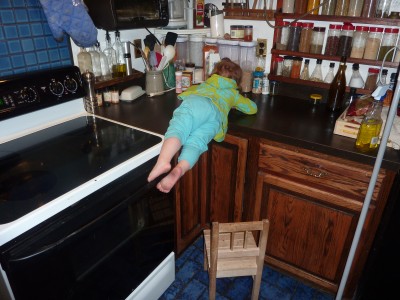 And I'm FINALLY growing some hair on top of my head: