Again it's been over a month since I blogged! But in my defense, I've been very busy experiencing and learning all sorts of new stuff!
We had a pretty tree in the house for awhile — it was decorated with lights and stuff. It was very beautiful — though I'm not really sure why you need to have trees indoors.
I got to open a lot of boxes with crinkly, colorful paper. Mommy got me a music table that has all sorts of buttons to push.
Let's see…. what have I learned in the last month:
I can feed myself! (I actually prefer to…)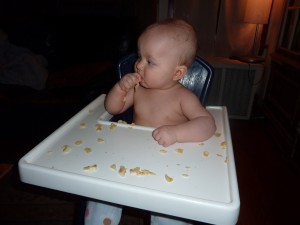 I can crawl — backwards and forwards!
I'm discovering all sorts of things around the house. Including this jackpot of cords and little lights
to put into my mouth (which has since disappeared)
Tonight I'm pulling myself up on all the furniture and walking around it. I see all the other kids walking — I'm not sure what the big deal is. I've tried it on a couple of occasions, but it didn't turn out so well.